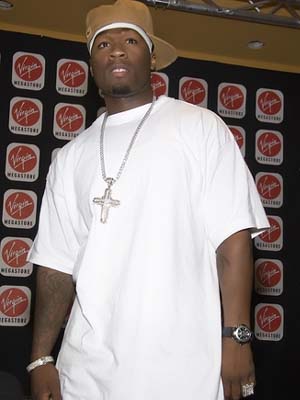 50 CentEndorsement Deals, Interests, Charity Work
July 06, 1975
Curtis James Jackson, or 50 Cent, is a successful rapper, producer, writer, actor, and entrepreneur who has achieved astonishing success in the face of many obstacles.  He was born in Jamaica, Queens in 1975 and as a young boy, dreamed of a career in boxing.  In 2003, his debut album, Get Rich or Die Tryin', […]
Show More
Curtis James Jackson, or 50 Cent, is a successful rapper, producer, writer, actor, and entrepreneur who has achieved astonishing success in the face of many obstacles.  He was born in Jamaica, Queens in 1975 and as a young boy, dreamed of a career in boxing.  In 2003, his debut album,
Get Rich or Die Tryin',
launched the wildly popular single, 'In Da Club
,
' which set the record of Billboard's most listened-to song in radio history, in just one week.  50 Cent also founded the production companies G-Unit Films, and Cheetah Vision, in 2003 and 2008, respectively.  He has participated in over twenty-five films, including
Get Rich or Die Tryin'
(2005),
Dead Man Running
(2009), and
The Frozen Ground
(2013).
Collapse
Contact 50 Cent