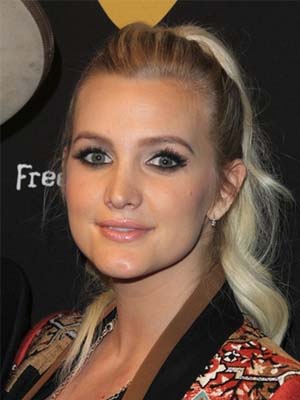 Ashlee SimpsonEndorsement Deals, Interests, Charity Work
October 03, 1984
Ashlee Simpson is an American singer-songwriter, actress, and media personality.  Her debut single, 'Pieces of Me,' became a top-five hit in the US, which was featured on her debut album, Autobiography (2004).  The album's success paved way for her sophomore release, I Am Me (2005), which also enjoyed chart-topping status, and went platinum.  Simpson has […]
Show More
Ashlee Simpson is an American singer-songwriter, actress, and media personality.  Her debut single, 'Pieces of Me,' became a top-five hit in the US, which was featured on her debut album,
Autobiography
(2004).  The album's success paved way for her sophomore release,
I Am Me
(2005), which also enjoyed chart-topping status, and went platinum.  Simpson has appeared on television's
Malcolm in the Middle
(2001),
7th Heaven
(2002-2004),
CSI: NY
(2009), and
Melrose Place
(2009-2010).  Films include
The Hot Chick
(2002),
Undiscovered
(2005),
The Kelly Slater Celebrity Surf International
(2006)
,
and
Pawn Shop Chronicles
(2013).  Most recently, Simpson played Roxie Hart in the musical
Chicago
, at the Hollywood Bowl in 2013.
Collapse
Contact Ashlee Simpson