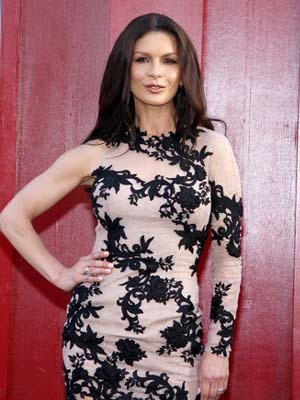 Catherine Zeta-Jones is a Welsh actress known for her various film and theater appearances.  She is known for her work in the television series, The Darling Buds of May (1991-1993), which led to film work in The Mask of Zorro (1998), The Haunting (1999), America's Sweethearts (2001), The Legend of Zorro (2005), Rock of Ages […]
Show More
Catherine Zeta-Jones is a Welsh actress known for her various film and theater appearances.  She is known for her work in the television series,
The Darling Buds of May
(1991-1993), which led to film work in
The Mask of Zorro
(1998),
The Haunting
(1999),
America's Sweethearts
(2001),
The Legend of Zorro
(2005),
Rock of Ages
(2012),
Broken City
(2013), and
RED 2
(2013), to name a few.  She received an Academy Award for her work in the movie musical,
Chicago
(2002), and was nominated for a Screen Actors Guild Award and a Golden Globe Award for her work in
Traffic
(2001).  Most recently, Zeta-Jones will be featured in the film
The Godmother
, set for a 2017 release.
Collapse
Contact Catherine Zeta-Jones