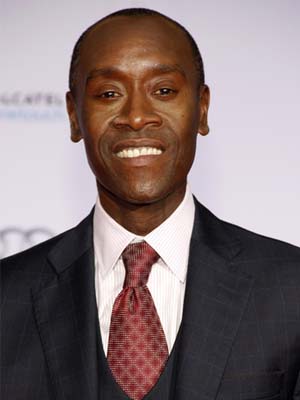 Don CheadleEndorsement Deals, Interests, Charity Work
November 29, 1964
Donald Frank Cheadle, Jr. is best known for his acting roles in Crash (2004),  Reign Over Me (2007), and Iron Man 1 (2010).  Early film credits include A Lesson Before Dying (1993), for which he received an Emmy Award nomination, and the film Devil in a Blue Dress (1995), which propelled him into stardom.  Cheadle […]
Show More
Donald Frank Cheadle, Jr. is best known for his acting roles in
Crash
(2004),  
Reign Over Me
(2007), and
Iron Man 1
(2010).  Early film credits include
A Lesson Before Dying
(1993), for which he received an Emmy Award nomination, and the film
Devil in a Blue Dress
(1995), which propelled him into stardom.  Cheadle earned his first Golden Globe Award for his work in the television film,
The Rat Pack
(1998).  His performance in the 2004 film,
Hotel Rwanda
, earned him critical acclaim and an Academy Award nomination for Best Actor.  He has been featured in the Showtime sitcom
House of Lies
, for which he received a Golden Globe Award in 2013.  To date, Cheadle has acted in more than seventy-five television and film roles, has directed three productions, and has produced nine films.  His latest project,
Captain America: Civil War
, will be released in 2016.
Collapse
Contact Don Cheadle