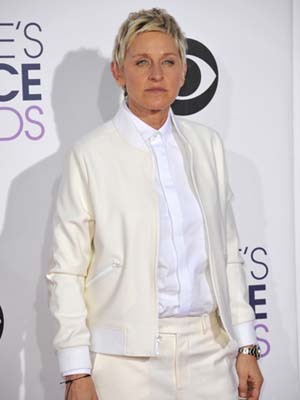 Ellen Degeneres is an American comedian, television host, actress, writer and producer.  She came into popularity in the 1990's on the sitcom, Ellen (1994-1998).  Subsequent television appearances include Will & Grace (2001), The Ellen Show (2001-2002), Six Feet Under (2004), and The Simpsons (2010).  Popular films include Finding Nemo (2003) and the upcoming Finding Dory […]
Show More
Ellen Degeneres is an American comedian, television host, actress, writer and producer.  She came into popularity in the 1990's on the sitcom,
Ellen
(1994-1998).  Subsequent television appearances include
Will & Grace
(2001),
The Ellen Show
(2001-2002),
Six Feet Under
(2004), and
The Simpsons
(2010).  Popular films include
Finding Nemo
(2003)
and the upcoming
Finding Dory
(2016).  In 2010, Degeneres was a judge on the ninth season of
American Idol.  
She has hosted the Academy Awards, the Grammy Awards, and the Primetime Emmy Awards.  Her work has garnered her thirteen Emmy Awards and fourteen People's Choice Awards.
Collapse
Contact Ellen Degeneres