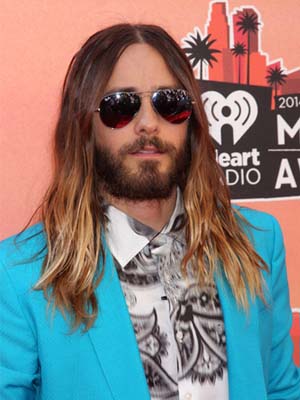 Jared LetoEndorsement Deals, Interests, Charity Work
December 26, 1971
Actor, singer-songwriter, and producer Jared Leto is an award-winning American celebrity.  Leto has taken on a variety of challenging roles which push the boundaries of his method acting abilities.  His role as a transgender woman in  2013's Dallas Buyers Club, garnered Leto an Academy Award, Golden Globe Award, and a Screen Actors Guild Award.  He […]
Show More
Actor, singer-songwriter, and producer Jared Leto is an award-winning American celebrity.  Leto has taken on a variety of challenging roles which push the boundaries of his method acting abilities.  His role as a transgender woman in  2013's
Dallas Buyers Club,
garnered Leto an Academy Award, Golden Globe Award, and a Screen Actors Guild Award.  He is the lead singer for the band 30 Seconds to Mars, who achieved worldwide recognition with their 2005 album,
A Beautiful Lie
, and the band now has sold over fifteen million albums worldwide.  Other notable films include 1998's
Urban Legend,
1999's
Fight Club
, 2000's
Requiem for a Dream,
and
Mr. Nobody
(2009).  In 2014, Leto released a documentary,
Into the Wild
, which is an account of his band's lengthy tour, which was certified by Guinness World Records as the longest running tour in rock music.  The film
Suicide Squad
, is set for a 2016 release.
Collapse
Contact Jared Leto