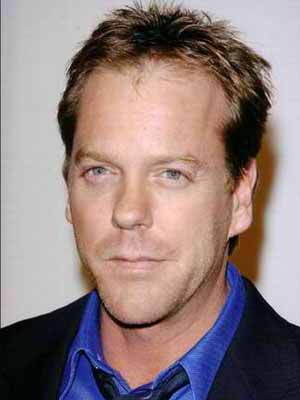 Kiefer Sutherland (born Kiefer WIlliam Frederick Dempsey George Rufus Sutherland), is a British-Canadian actor, producer, and film director.  For his performance in the hot Fox series, 24 (2001-2014), Sutherland has earned an Emmy Award, Golden Globe Award, two Screen Actors Guild Awards, and two Satellite Awards.  Notable movie credits include Stand by Me (1986),  A […]
Show More
Kiefer Sutherland (born Kiefer WIlliam Frederick Dempsey George Rufus Sutherland), is a British-Canadian actor, producer, and film director.  For his performance in the hot Fox series,
24
(2001-2014), Sutherland has earned an Emmy Award, Golden Globe Award, two Screen Actors Guild Awards, and two Satellite Awards.  Notable movie credits include
Stand by Me
(1986),
 A Few Good Men
 (1992),
The Three Musketeers
(1993),
Booth
(2003),
Mirrors
(2008), and
Pompeii
(2014), among many others.  In 2011, Sutherland made his Broadway debut in
That Championship Season
, opposite Brian Cox, Chris Noth, and Jim Gaffigan.  Upcoming projects include television series,
Designated Survivor,
and the film
Beat-up Little Seagull,
set for a 2016 release.
Collapse
Contact Kiefer Sutherland