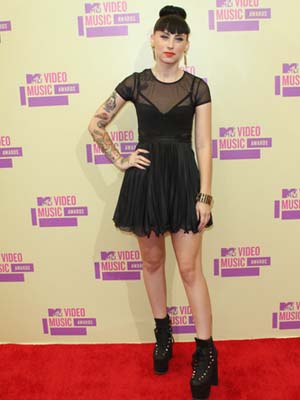 KreayshawnEndorsement Deals, Interests, Charity Work
September 24, 1989
Rapper, music video director, and radio personality Kreayshawn (born Natassia Gail Zolot) found success through the release of her mixtapes Kittys x Choppas, and Kreayshawn x the Mob, establishing the title of 'female Lil B.'  Her single, 'Gucci Gucci,' resulted in a deal with Columbia Records.  The single went viral, generating over three-million YouTube views […]
Show More
Rapper, music video director, and radio personality Kreayshawn (born Natassia Gail Zolot) found success through the release of her mixtapes
Kittys x Choppas
, and
Kreayshawn x the Mob
, establishing the title of 'female Lil B.'  Her single, 'Gucci Gucci,' resulted in a deal with Columbia Records.  The single went viral, generating over three-million YouTube views within the first few weeks, and spawned the release of her debut album in 2012,
Somethin' 'Bout Kreay.
 She hosts 'Kreaydio,' a show off The Cut station on Dash Radio.  Kreayshawn is a MTV Video Music Award nominee and accomplished video music director, who is listed by Business Insider as one of the 19 Most Important White Rappers in 2011, joining both Eminem and Mac Miller.
Collapse
Contact Kreayshawn