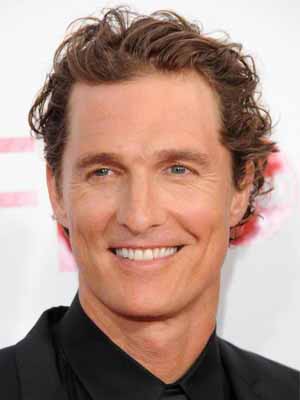 Matthew David McConaughey is an award-winning actor and producer, who first broke into the film world in the 1993 comedy, Dazed and Confused.  The 2000's brought on a slew of romantic comedy roles, such as The Wedding Planner (2001), and How to Lose a Guy in 10 Days (2003).  In departure from the type of […]
Show More
Matthew David McConaughey is an award-winning actor and producer, who first broke into the film world in the 1993 comedy,
Dazed and Confused.  
The 2000's brought on a slew of romantic comedy roles, such as
The Wedding Planner
(2001), and
How to Lose a Guy in 10 Days
(2003).  In departure from the type of roles to which he was accustomed, McConaughey was cast in
Dallas Buyers Club
(2013), co-starring Jared Leto, a film for which he won a Screen Actors Guild Award, a Golden Globe Award, and the Academy Award for Best Actor.  The role launched the actor into numerous successful films such as
The Wolf of Wall Street
(2013),
Interstellar
(2014), and
The Sea of Trees
(
2
015).  Upcoming films include
Gold, Free State of Jones, Sing,
and
The Dark Tower.
Collapse
Contact Matthew McConaughey