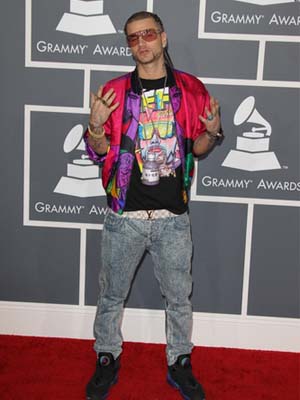 Riff RaffEndorsement Deals, Interests, Charity Work
January 29, 1982
Horst Christian Simco, better known as Riff Raff, is an American rapper from Texas, signed under Diplo's record label, Mad Decent.  The rapper began making homemade mixtapes in 2005, and soon caught the attention of Simon Rex, a rapper and comedian, who introduced him to producer The Alchemist.  The introduction spawned the group, Three Loco, […]
Show More
Horst Christian Simco, better known as Riff Raff, is an American rapper from Texas, signed under Diplo's record label, Mad Decent.  The rapper began making homemade mixtapes in 2005, and soon caught the attention of Simon Rex, a rapper and comedian, who introduced him to producer The Alchemist.  The introduction spawned the group,
Three Loco,
including popular comedian Andy Milonakis, which caught the attention of celebrity fan bases.  He released solo singles 'Jose' Canseco,' and 'Marc Jacobs,' before collaborating with Chief Keef, Skrillex, Usher, Soulja Boy, Gucci Mane, Mystikal, and Rusko.  Riff Raff released
Peach Panther
, his second studio album, in 2015 with the single 'Spazz Out,' featuring production by Travis Barker.  His EP,
Trench Coat Towers
, came soon thereafter.  He has also lended his vocal and acting abilities to television's
Major Lazer
(2015)
, Wild 'n Out
(2014)
,
and
One Life to Live
(2013).
Collapse
Contact Riff Raff