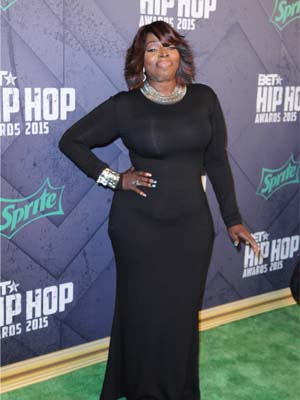 Angie StoneEndorsement Deals, Interests, Charity Work
December 18, 1961
Angie Stone (born Angela Laverne Brown) is an American singer, producer, and actress.  She began her career in a variety of projects such as The Sequence, Mantronix, and Vertical Hold.  In 1999, she released her debut solo album, Black Diamond which was certified gold and featured the single 'No More Rain (In This Cloud).'  Stone […]
Show More
Angie Stone (born Angela Laverne Brown) is an American singer, producer, and actress.  She began her career in a variety of projects such as The Sequence, Mantronix, and Vertical Hold.  In 1999, she released her debut solo album,
Black Diamond
which was certified gold and featured the single 'No More Rain (In This Cloud).'  Stone has released six subsequent albums which collectively earned her three Grammy Award nominations.  Other hit singles include 'Brotha,' 'Wish I Didn't Miss You,' 'Stay for a While (featuring Anthony Hamilton),' and 'Baby,' among others.  Stone's acting credits include television's
Moesha
(2000),
The Fighting Temptations
(2003),
Ride Along
(2014), and VH1's
Celebrity Fit Club
(2002-2006).
Collapse
Contact Angie Stone