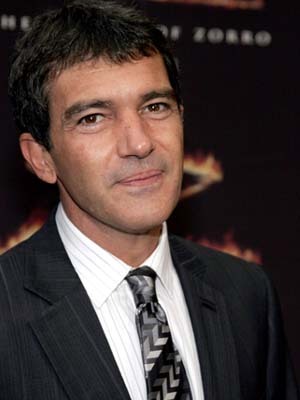 Antonio Banderas is a Spanish actor, director, and producer from Malaga, Spain.  He made his film debut in The Mambo Kings (1992), his first English-speaking role.  He rose to fame through his work in Philadelphia (1993), which led him to take on further success in Interview with the Vampire (1994), Desperado (1995), The Mask of […]
Show More
Antonio Banderas is a Spanish actor, director, and producer from Malaga, Spain.  He made his film debut in
The Mambo Kings
(1992), his first English-speaking role.  He rose to fame through his work in
Philadelphia
(1993), which led him to take on further success in
Interview with the Vampire
(1994),
Desperado
(1995)
, The Mask of Zorro
(1998), and the
Spy Kids
trilogy.  His work in the musical revival of
Nine
, in 2003, led him to a Tony Award nomination for Best Performance by a Leading Actor in a Musical.  For his work in
You Will Meet a Tall Dark Stranger
(2010), he won an ALMA Award.  Banderas is the owner of Villalba de Duero, a winery in Spain, and represents the multinational fragrance company, Puig.  He is currently filming a television series,
Havana Quartet
, and films
33 dias,
and
Security.
Collapse
Contact Antonio Banderas