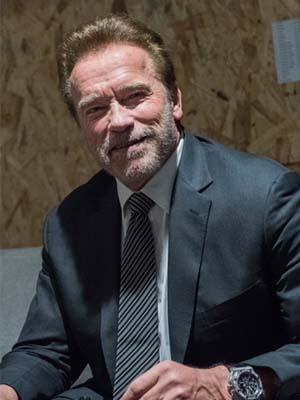 Austrian bodybuilder-turned-actor, Arnold Schwarzenegger, is a multi-talented actor, filmmaker, businessman, and politician, as thirty-eighth Governor of California from 2003-2011.  Blockbuster roles include Conan the Barbarian 1982), Twins (1988), The Terminator (1991, 2003, 2015), and True Lies (1994).  The seven-time Mr. Olympia winner also has a Golden Globe Award, and a star on the Hollywood Walk […]
Show More
Austrian bodybuilder-turned-actor, Arnold Schwarzenegger,
is a multi-talented actor, filmmaker, businessman, and politician, as thirty-eighth Governor of California from 2003-2011.  Blockbuster roles include
Conan the Barbarian 1982), Twins
(1988),
The Terminator
(1991, 2003, 2015), and
True Lies
(1994).  The seven-time Mr. Olympia winner also has a Golden Globe Award, and a star on the Hollywood Walk of Fame.  In 2012, after his term as governor, he returned to acting and starred with Jean-Claude Van Damme, Bruce Willis, and Sylvester Stallone in
The Expendables 2
, which took the No. 1 spot at box offices.  Schwarzenegger is an avid supporter and activist for the Special Olympics and is founder of the Schwarzenegger Institute for State and Global Policy.
Collapse
Contact Arnold Schwarzenegger