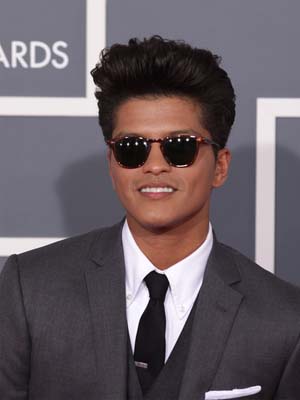 Bruno MarsEndorsement Deals, Interests, Charity Work
October 08, 1985
Bruno Mars (born Peter Gene Hernandez) is an American singer, songwriter, multi-instrumentalist, producer, and choreographer.  He broke onto the music scene in 2009 with his hits 'Nothin' on You,' and 'Billionaire.'  His debut album, Doo-Wops & Hooligans (2010) included the hit singles, 'Just the Way You Are,' and 'Grenade,' among many others.  Mars has received […]
Show More
Bruno Mars (born Peter Gene Hernandez) is an American singer, songwriter, multi-instrumentalist, producer, and choreographer.  He broke onto the music scene in 2009 with his hits 'Nothin' on You,' and 'Billionaire.'  His debut album,
Doo-Wops & Hooligans
(2010) included the hit singles, 'Just the Way You Are,' and 'Grenade,' among many others.  Mars has received four Grammy Awards and was named one of Time's 100 Most Influential People in the World in 2011.  His second album,
Unorthodox Jukebox
(2012) featured the hits 'Locked Out of Heaven,' 'When I Was Your Man,' and 'Treasure,' among many others.  Mars embarked on The Moonshine Jungle Tour (2013-2014) on which he performed forty-two international shows.
Collapse
Contact Bruno Mars