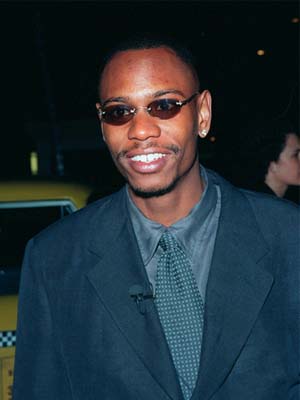 Dave ChappelleEndorsement Deals, Interests, Charity Work
August 24, 1973
David Khari Webber Chappelle, better known as comedian and writer, Dave Chappelle, is well-known for his Primetime Emmy nominated sketch comedy television series, Chappelle's Show (2003-2005).  Chappelle began doing stand-up comedy in New York City, and before long attracted the attention of television executives which led him to his television debut on Home Improvement (1995). […]
Show More
David Khari Webber Chappelle, better known as comedian and writer, Dave Chappelle, is well-known for his Primetime Emmy nominated sketch comedy television series,
Chappelle's Show
(2003-2005).  Chappelle began doing stand-up comedy in New York City, and before long attracted the attention of television executives which led him to his television debut on
Home Improvement
(1995).  In 2000, he released a one-hour HBO special,
Dave Chappelle: Killin' Them Softly,
and in 2004, released
Dave Chappelle: For What It's Worth
, another HBO comedy special.  Before announcing his 2006 retirement, he was involved in many films, such as 1996's
The Nutty Professor,
1998's
You've Got Mail
, and 1998's
Half Baked.  
Retirement has kept Chappelle away from television screens, but he most recently made a comeback in a span of shows at Radio City Music Hall in 2014.
Collapse
Contact Dave Chappelle