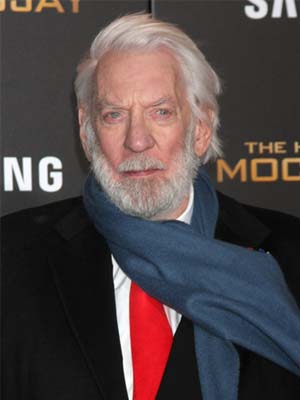 Donald Sutherland is a Canadian actor whose career spans six decades of work. Sutherland has starred in dozens of classic films, including; The Dirty Dozen (1967), M*A*S*H (1970), Animal House (1978), Invasion of the Body Snatchers (1978), and many more. In recent times, Sutherland has continued to star in films such as The Italian Job […]
Show More
Donald Sutherland is a Canadian actor whose career spans six decades of work. Sutherland has starred in dozens of classic films, including;
The Dirty Dozen
(1967),
M*A*S*H
(1970),
Animal House
(1978),
Invasion of the Body Snatchers
(1978), and many more. In recent times, Sutherland has continued to star in films such as
The Italian Job
(2003),
Pride & Prejudice
(2005), and
The Hunger Games
franchise (2012-2015). Sutherland has been nominated for eight Golden Globes, winning two, has won a Primetime Emmy Award, has a star on both the Hollywood and Canadian Walk of Fame, and is widely considered one of the best actors to never be nominated for an Oscar.
Collapse
Contact Donald Sutherland