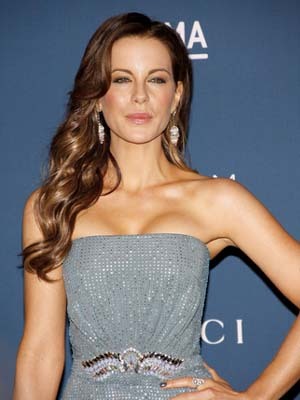 Kate Beckinsale is an English actress known for her work in Pearl Harbor (2001), Serendipity (2001), The Aviator (2004), Click (2006), the Underworld film series (2003-present), Van Helsing (2004), Total Recall (2012), and Absolutely Anything (2015), among many others.  From 1995-1996, she appeared in three theatrical productions – The Seagull, Sweetheart, and Clocks and Whistles. […]
Show More
Kate Beckinsale is an English actress known for her work in
Pearl Harbor
(2001),
Serendipity
(2001),
The Aviator
(2004),
Click
(2006), the
Underworld
film series (2003-present),
Van Helsing
(2004),
Total Recall
(2012), and
Absolutely Anything
(2015), among many others.  From 1995-1996, she appeared in three theatrical productions -
The Seagull, Sweetheart,
and
Clocks and Whistles
.  Beckinsale has also modeled for Gap, Diet Coke, Absolut Vodka, and Lux Shampoo, to name a few.  She has won a London Critics Circle Award, a Spike Guy's Choice Award, and a Sitges-Catalonian International Film Festival Award.  Beckinsale will next appear in
Underworld 5
, set for a 2016 release.
Collapse
Contact Kate Beckinsale