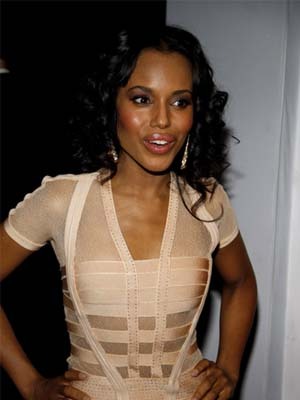 Kerry Washington is an American actress known for her performance on ABC's drama, Scandal (2012-2016).  The role has earned Washington  nominations for two Primetime Emmy Awards, a Screen Actors Guild Award, and a Golden Globe Award.  Other notable film credits include Ray (2004), The Last King of Scotland (2006), the Fantastic Four films (2005, 2007), […]
Show More
Kerry Washington is an American actress known for her performance on ABC's drama,
Scandal
(2012-2016).  The role has earned Washington  nominations for two Primetime Emmy Awards, a Screen Actors Guild Award, and a Golden Globe Award.  Other notable film credits include
Ray
(2004),
The Last King of Scotland
(2006), the
Fantastic Four
films
(2005, 2007),
For Colored Girls
(2010), and
Django Unchained
(2012), among others. Washington has also appeared in Broadway's
Race
with James Spader, David Alan Grier, and Richard Thomas.  She has been named of the 'Most Beautiful People,' by People Magazine.  In April 2016, Washington will star in the HBO film,
Confirmation.
Collapse
Contact Kerry Washington