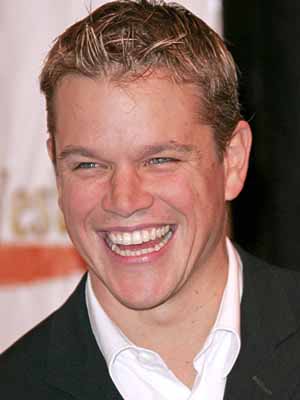 Matt DamonEndorsement Deals, Interests, Charity Work
October 08, 1970
Matthew Paige Damon is an actor and filmmaker from Massachusetts, who landed his first film in 1988's Mystic Pizza, with Julia Roberts.  He and actor Ben Affleck starred and co-wrote 1997's blockbuster film, Good Will Hunting, which won them an Academy Award and Golden Globe Award for Best Original Screenplay, and Damon an Academy Award […]
Show More
Matthew Paige Damon is an actor and filmmaker from Massachusetts, who landed his first film in 1988's
Mystic Pizza,
with Julia Roberts.  He and actor Ben Affleck starred and co-wrote 1997's blockbuster film,
Good Will Hunting
, which won them an Academy Award and Golden Globe Award for Best Original Screenplay, and Damon an Academy Award nomination for Best Actor.  Notable films include
Saving Private Ryan
(1998),
The Talented Mr. Ripley
(1999),
Syriana
(2005), and
The Departed
(2006).  Damon is perhaps best-known for his work in the
Bourne
film series (2002-present), for which he received three Academy Award nominations.  Current projects include films
Jason Bourne, The Great Wall, Suburbicon,
and
Downsizing.
Collapse
Contact Matt Damon