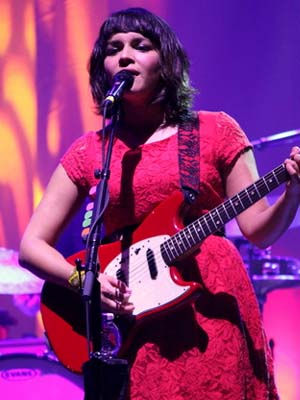 Norah JonesEndorsement Deals, Interests, Charity Work
March 30, 1979
Norah Jones (born Geetali Norah Jones Shankar) is an American singer, songwriter, and actress who has sold more than fifty-million albums and has won nine Grammy Awards.  Her debut album, 2002's Come Away with Me, fused influences of jazz, country, and pop, and was certified diamond, earning her five Grammy Awards, including Album of the […]
Show More
Norah Jones (born Geetali Norah Jones Shankar) is an American singer, songwriter, and actress who has sold more than fifty-million albums and has won nine Grammy Awards.  Her debut album, 2002's
Come Away with Me
, fused influences of jazz, country, and pop, and was certified diamond, earning her five Grammy Awards, including Album of the Year, Record of the Year, and Best New Artist.  Subsequent albums,
Feels Like Home
(2004),
Not Too Late
(2007),
The Fall
(2009), and
Little Broken Hearts
(2012), all reached platinum status.  Jones is the son of famed sitar player, Ravi Shankar.  Jones has appeared in
My Blueberry Nights
(2007), television show
30 Rock
(2009),
Wah Do Dem
(2009), and
Ted
(2012), among others.
Collapse
Contact Norah Jones