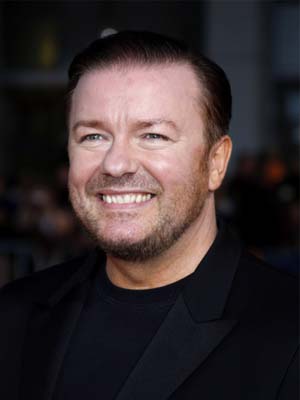 Ricky GervaisEndorsement Deals, Interests, Charity Work
June 25, 1961
Golden Globe Award winning actor, comedian, director, and writer Ricky Gervais began initially working in the music industry, working in the band Suede, before changing directions to comedy.  Gervais got his big acting break in BBC television's hit show, The Office (2001-2003), which led to his involvement with major Hollywood films Ghost Town (2008), and […]
Show More
Golden Globe Award winning actor, comedian, director, and writer Ricky Gervais began initially working in the music industry, working in the band Suede, before changing directions to comedy.  Gervais got his big acting break in BBC television's hit show,
The Office
(2001-2003), which led to his involvement with major Hollywood films
Ghost Town
(2008), and
Muppets Most Wanted
(2014).   He has won several awards - seven BAFTA Awards, five British Comedy Awards, three Golden Globe Awards, two Emmy Awards, and a Screen Actors Guild Award nomination, among many others.  He is most recently working on
Special Correspondents,
and
David Brent: Life on the Road.
Collapse
Contact Ricky Gervais