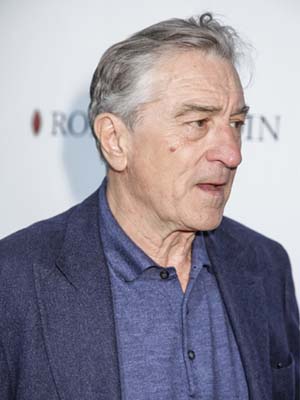 Robert De NiroEndorsement Deals, Interests, Charity Work
August 17, 1943
Prominent award-winning actor Robert De Niro has starred in over one-hundred films and is known for his frequent ongoing work with director Martin Scorsese.  Early credits include Bang the Drum Slowly (1973), and Scorsese's 1973 film, Mean Streets.  He won an Academy Awards for Best Supporting Actor and Best Actor with his portrayal of young […]
Show More
Prominent award-winning actor Robert De Niro has starred in over one-hundred films and is known for his frequent ongoing work with director Martin Scorsese.  Early credits include
Bang the Drum Slowly
(1973), and Scorsese's 1973 film,
Mean Streets.  
He won an Academy Awards for Best Supporting Actor and Best Actor with his portrayal of young Vito Corleone in
The Godfather Part II
(1974), and Jake LaMotta in
Raging Bull
(1980).  Other notable films include
The Deer Hunter
(1978),
Goodfellas
(1990),
Analyze This
(1999),
Meet the Parents
(2000), and
Machete
(2010), among many others.  Directorial credits include
A Bronx Tale
(1993), in which he also starred, and
The Good Shepherd
(2006).  De Niro is also the recipient of the AFI Lifetime Achievement Award in 2003, and the Golden Globe Cecil B. DeMille Award in 2010.  Upcoming projects include
Honeymoon with Harry, Hands of Stone,
and
The Comedian.
Collapse
Contact Robert De Niro