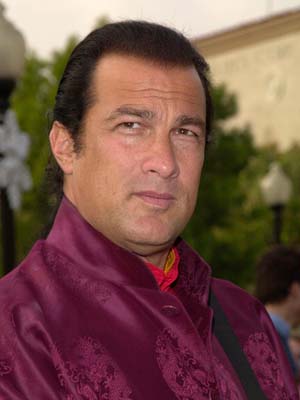 Steven SeagalEndorsement Deals, Interests, Charity Work
April 10, 1952
Actor, film producer, and martial artist Steven Seagal is a 7th-dan black belt in Aikido, a talent which he uses in his most well-known films such as Above the Law (1988), and Under Siege (1992) among many others.  Other notable film work includes Exit Wounds (2001), Half Past Dead (2002) and Machete (2010).  In 2009, […]
Show More
Actor, film producer, and martial artist Steven Seagal is a 7th-dan black belt in Aikido, a talent which he uses in his most well-known films such as
Above the Law
(1988), and
Under Siege
(1992) among many others.  Other notable film work includes
Exit Wounds
(2001),
Half Past Dead
(2002) and
Machete
(2010).  In 2009, Seagal starred in the reality television series,
Steven Seagal: Lawman,
focusing on his life and career as a deputy in Louisiana.  Producer credits include
Above the Law, The Patriot
(1998),
Belly of the Beast
(2003), and television's
True Justice
.  Upcoming acting projects include
Killing Salazar, Cyborg Nemesis, Contract to Kill,
and
Code of Honor.
Collapse
Contact Steven Seagal