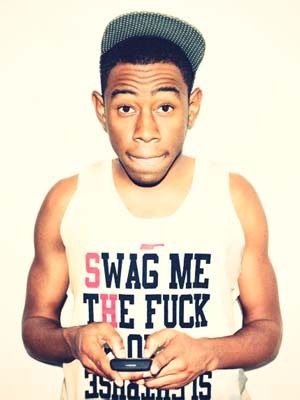 Tyler Gregory Okonma, better known as Tyler the Creator, is an American rapper, songwriter, producer, actor, and director, with beginnings as co-founder of alternative hip-hop collective, Odd Future.  His self-released mixtape, Bastard (2009) earned him a spot on Pitchfork Media's list of the Top Albums of 2010.  Subsequent albums include Goblin (2011), Wolf (2013), and […]
Show More
Tyler Gregory Okonma, better known as Tyler the Creator, is an American rapper, songwriter, producer, actor, and director, with beginnings as co-founder of alternative hip-hop collective, Odd Future.  His self-released mixtape,
Bastard
(2009) earned him a spot on Pitchfork Media's list of the Top Albums of 2010.  Subsequent albums include
Goblin
(2011),
Wolf
(2013), and his latest,
Cherry Bomb
(2015), which features Charlie Wilson, Chaz Bundick, Kanye West and Lil' Wayne.  The album was released through his own label, Odd Future Records  Tyler has appeared on a series of television shows, such as MTV's
Ridiculousness
and
Punked
, along with
Black Dynamite
(2015),
The Eric Andre Show
(2015), and
Tavis Smiley
(2015).
Collapse
Contact Tyler The Creator