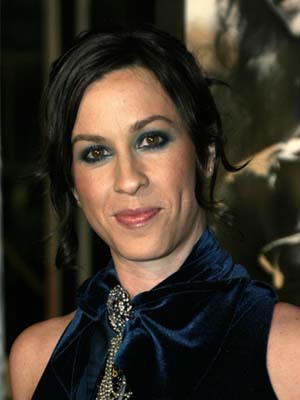 Alanis Morissette is a Canadian singer-songwriter known her 1995 alternative rock hits, 'Ironic,' 'Head Over Feet,' and 'You Oughta Know.'  She is a two-time Golden Globe Award nominee for her songs 'Uninvited,' and 'Wunderkind,' released in 1998 and 2006, respectively.  Since her 1995 breakthrough album, Jagged Little Pill, Morissette has released five subsequent efforts, and […]
Show More
Alanis Morissette is a Canadian singer-songwriter known her 1995 alternative rock hits, 'Ironic,' 'Head Over Feet,' and 'You Oughta Know.'  She is a two-time Golden Globe Award nominee for her songs 'Uninvited,' and 'Wunderkind,' released in 1998 and 2006, respectively.  Since her 1995 breakthrough album,
Jagged Little Pill,
Morissette has released five subsequent efforts, and has sold more than sixty-million albums worldwide.  She is known for her signature mezzo-soprano rocker tone, and has been dubbed by Rolling Stone Magazine as the 'Queen of Alt-Rock Angst.'  Morissette has appeared in television's
Nip/Tuck
(2006) and
Weeds
(2009-2010).  Most recently, a four-disc collector's edition of
Jagged Little Pill
was released in 2015, celebrating the twenty-year anniversary of the success.
Collapse
Contact Alanis Morissette